Dear UQLab team,
First of all, thank you for such an amazing UQ toolbox.
I am majoring in Aerospace engineering and is looking into wind energy topic.
As I am building the probabilistic input models, I found that when running the uq_createModel function, the computational time is exceptionally long (when using the Quadrature method). I am suspecting this is because I have too many inputs marginal as reducing the number of them can make the computation faster.
The reason I am building up so many inputs is that I am trying to create different wind roses with different sector probabilities. Thus, if a standard wind rose has 30 degrees per sector, I will have 12 sectors for [0, 360] degree, while each marginal represents one sector with probability less than 1. Further, the probabilities for the 12 sectors should have a fixed sum of 1. An example of wind rose is shown below.
for ii = 1:n_sector
    InputOpts.Marginals(ii).Type = 'Gaussian';
    InputOpts.Marginals(ii).Parameters = [0.5  0.1];
    InputOpts.Marginals(ii).Bounds = [0, 1];
end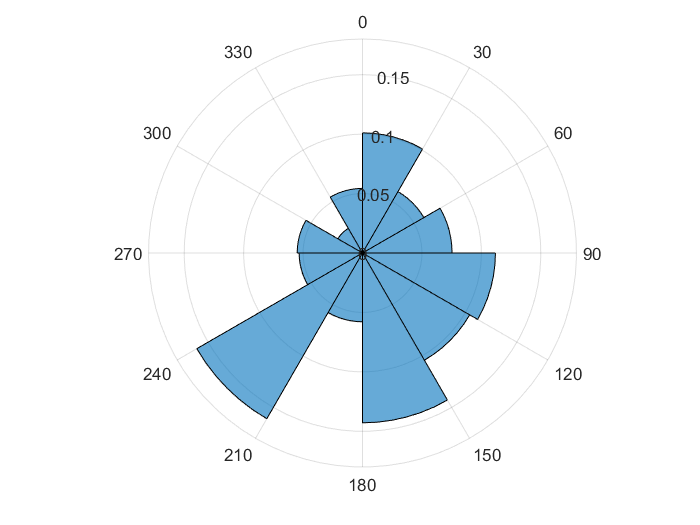 I tried to utilise copulas to correlate the variables but failed to do so.
(I am not familiar with copulas, but I have tried all the example usages from the input manual and inference manual and still can not get a fixed value sum.)
Therefore, instead of defining dependency at the input marginal, I am currently altering the sector probabilities in the computational model to have a fixed sum even though I believe it is not recommended to do so.
Is there a way to have this dependency between these marginal when defining input models?
Thanks for any suggestion or feedback,
Jason