Hello,
First of all I would like to thank the team for UQlab, it is a very efficient and very useful tool.
I am working with UQlab for geotechnics, and I use UQLink with ZSoil, which is a finite element software. I mostly try to assess rare events, and I use a lot the reliability module, with heavy models.
My current project is about an article from D. Straub and I. Papaioannou : "Reliability updating in geotechnical engineering including spatial variability of soil" (2012).
I have three inputs in my model, and some combinations of inputs give back no results with ZSoil, because the calculation does not converge (the equilibrium is not satisfied, and the excavation is not stable) : the software returns an irrelevant output. When I use UQlink to quantify uncertainty, I have to sort the output which are divergent. Thus, my parser (which returns the output, displacement of some nodes) assigns an arbitrary displacement (200mm, which is quite huge here), in order to signal that this calculation diverged, and to count it as a failure. To give some figures, for 700 samples of my input, my model gives back 15 divergent points (you can see the PDF on the picture).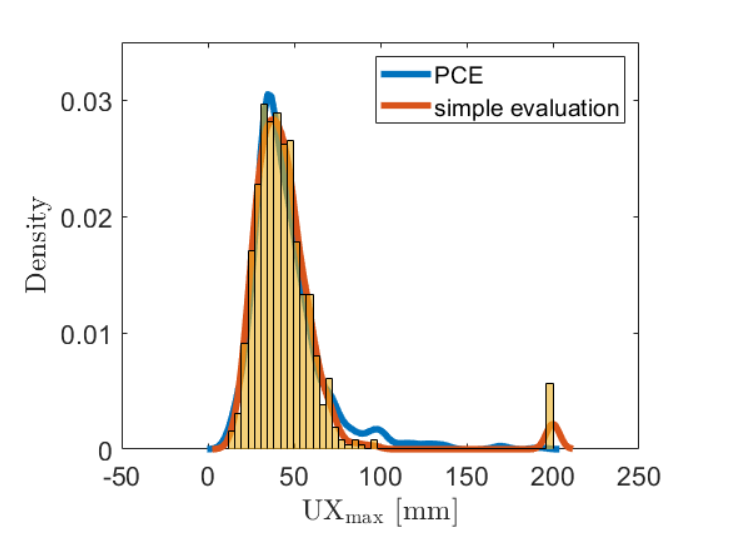 It creates a discontinuity in my output thus I think the way I treat those divergent cases is not the best. Indeed, I would like to set a PCE, in order to do a reliability analysis, and also a bayesian inverse problem. I am not sure that a PCE which was calculated with some divergent samples is precise, and I think this discontinuity in the output can give imprecise results.
So I guess my question is: did anybody ask this question before, and what would be your advice in order to treat these diverged values in the best way possible ?
Thanks a lot for your time and your help,
Marc Groslambert
Geomod SA